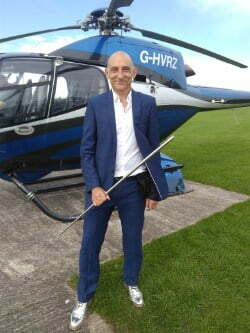 "You still have a psychiatrist, lawyer, chartered accountant and head teacher scratching their heads as to how you managed to produce a bottle out of a balloon-truly amazing" (so said Clive and Alison -Golden Wedding Anniversary – Bramhall -29 July 2023)
"Where the ****  did that pack of cards go?" so said an amazed guest at Jo and Dan's wedding (10 September 2022)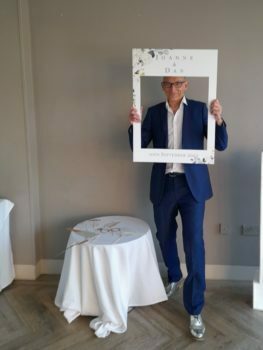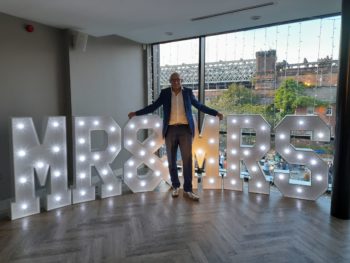 "Paul was so lovely and approachable throughout the evening, he went above and beyond. The magic was spectacular and loved by everyone!"  so said Molly at Sandra and Audrey's birthday party (31 July 2021).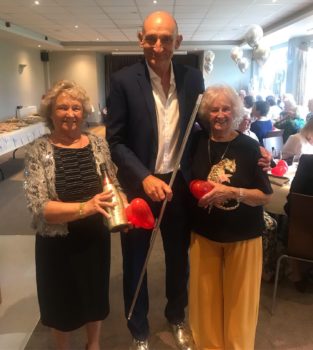 Text him now for a free no obligation quote for your party 0744 351 9313.
He provides exciting entertainment for weddings, anniversaries, birthdays and Christmas parties and ,most recently, did close up magic for Cyfor for their summer party at City Airport Manchester (September 2019).
He has worked at SEO Works, Arley Hall, Mercure Dunkenhalgh Hotel, Foxfields, Tatton Park  and Gawsworth.
If you have filmed Paul Kay's magic on your phone and would like to see it on his website, email it to [email protected].
Instagram paulkaymagic.
He can also saw any person in half – a great magical surprise for a special party.
He can make bottles of Champagne appear out of thin air, items float in front of you and perform amazing legerdemain.
Working at top venues in Media City, Cheshire, Yorkshire, Derbyshire, Staffordshire, Preston, Charnock Richard, Blackburn and Liverpool, close up magician, Paul Kay, has magically entertained audiences with wit and enthusiasm.  Whether you require elegant strolling magic for evening entertainment or something more fun and dramatic for a lively audience Paul Kay will engage and amuse.  Take a tour through the tailored entertainment section for more information. Don't forget, discounts are available for all midweek bookings.
"A great night of family fun with the awesome Paul Kay doing a great range of magic tricks and close up magic perfect for our Dad's 60th celebration" quipped Michelle (February 2020)
"…everyone had a fair share of his time and his magic was excellent. Some of his magic was quite literally unbelievable!!! I can heartily recommend Paul for any function you might be organising" said Ian organiser for Bingley Bantams Winter Ball (January 2020).
"Hi Paul, thanks so much for performing at our Halloween party last Saturday.. everybody is still talking about how cool and mind-boggling your tricks were!! Couldn't fault your professionalism and amazing tricks, and we're glad we chose you to attend!" said Martin at his Halloween party (November 2019)
"I Just wanted to say a massive thank you for Friday. Everyone loved it" said Dan after Paul sawed Tim in half for his stag night (October 2019)
"Fantastic magic-great entertainment" said Ben at SEO Works 10th birthday (March 2019)
"Great entertainment… we thoroughly enjoyed it as did all our guests.  You made an already special celebration even more special." said Maralyn and Mike at their Golden Wedding Anniversary (August 2019)
"..everyone enjoyed the magic and it set a great tone for the night. I'll recommend you to anyone looking for a magician.." so said Don (June 2019)
"Words like awesome and amazing were genuinely banded about throughout the night. Apart from everything else we all thought the price you gave was very good value for money" Stella at her birthday and her daughter's 21 st birthday party where Paul made bottles of Champagne appear out of mid-air.
"We both really enjoyed it, especially the personal touches" Matt on booking the ghost tour and bespoke magic performance as an anniversary surprise.
"We all thought you were amazing.We thoroughly enjoyed all your magic.The Champagne trick was awesome. What a great way to start the night" Jaqui on seeing Paul's magic at her parents' Golden Wedding Anniversary.